Good Governance and AMLA workshop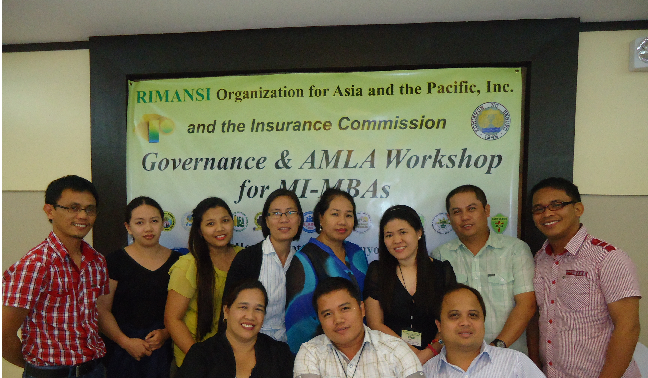 (From left to right: (Top) Primo B. Golosinda, Atty. Rodalice P. Cabe, Aileen B. Castillo, Maribel M. Almanza, Atty. Anatalia F. Buenaventura, Jennifer O. Redublo, Rexon B. Borruel, Roy P. Jabonan (Bottom) Jocelyn C. Decipeda, Archie B. Menchavez, Napleon B. Brofar)
Ten participants from CARD MBA Inc. joined the two-day Governance and AMLA Workshop for MI-MBAs in Mandaluyong City, Philippines on July 18-19, 2013. The workshop was catered by RIMANSI Organization for Asia and the Pacific Inc. for its partner mutual benefit associations.
Deputy Insurance Commissioner Hon. Vida T. Chiong and AMLA Task Force Officer – Examination Division Ms. Priscilla S. Manulac are among the invited resource persons of the workshop, who discussed corporate governance principles, concepts, compliance requirements and Anti-Money Laundering Law (AMLA). They give some advices to all the participants on how good governance are practice and why it should be practiced.
Other topics talk about are Practicing Corporate Governance given by Ms. Maria Anna R. Ignacio Executive Director of KCDI, Making Mutuality Work by Mr. Camilo G. Casals, RIMANSI CCA Advisor, Performance Management of MI-MBAs by Mr. Jun Jay E. Perez. There are also testimonials from the former Board of Director of CARD MBA and ASKI MBA.