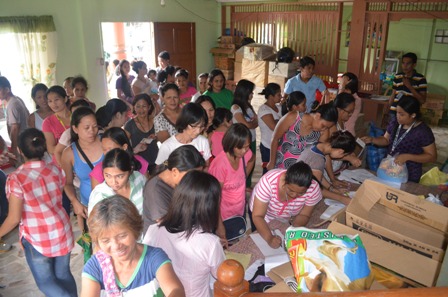 As the number of affected individuals by typhoon Glenda increased, the number of assistance and support from the different organizations, public and private, is also mounting like that of CARD MRI for its members.
Of the increasing number of distressed individuals, the percentage of validated and paid claims of CARD has also increased showing fast claims validation and payment through its insurance arms, CARD MBA, Inc. and CaMIA. Both are mandated to pay claims within the 1-3-5 day target.  To date, the total number of claims paid is 10,913 which totaled to PhP 32.56-M amount of claims paid. In addition, CARD reported two life insurance claims immediately validated and paid by CARD MBA, Inc. in Nabua and San Pablo amounting to Php 85,409.50.  CARD MBA offices in the affected areas right after typhoon and until now are crowded with members claiming their re-house claims.
CARD MRI staff deployed in the affected areas are tasked to visit the members and clients of the different financial institutions to enable fast validation of the affected clients' claims for re-house.
Another major activity of CARD MRI to this date is its relief operations to back up its members' need for food and medicine. CDRAP stations across the affected areas were set up to pack thousands of relief goods and ready it for distribution.
Solar lights were utilized in the different offices of CARD MRI located in affected areas to facilitate continuous service to the members and clients. ATM machines found in the CARD Bank, Inc. branches are fully open for use to members and non-members.
CARD MRI has been responsive to every need of its affected families under its wings through fast payment of claims, urgent provision of relief goods, and a reliable communication system among its staff and members. CARD MRI will continue to provide its fast, reliable, and genuine service to the poor especially in these trying times.